With Winter fast approaching, it's easier than ever to stay at your desk on your lunch break and to get cosy on the sofa in the evening. But do you know how bad this sedentary behavior is for your health?
Take a moment to think about exactly how much time you spend sitting in an average day. How long is your commute to and from work and are you seated for the journey? Do you work at a desk or sit in meetings for the majority of the day? Do you eat your meals whilst seated? Do your evening activities involve sitting down?
Research suggests that on average, we only spend three hours out of twenty-four standing up or walking.
You may think that this isn't a problem if you are within your healthy BMI and take measures to exercise regularly, but did you know that even if you visited the gym every day, the negative effects of a sedentary lifestyle will not be offset?
So what are the effects of sedentary behavior?
The NHS website lists a number of issues such as:
Obesity
Type 2 Diabetes
Certain Types of Cancer
Slow Metabolism
Issues with blood pressure
Cardiovascular Disease
How can we change this?
You can take certain measures in order to tackle these effects, however, much like dieting, they depend upon self discipline and thus tend to fluctuate in success. Knowing this and taking note of the alarming health risks facing a large proportion of workers, the brains at Scandinavian Business Seating looked into creating a way to tackle sedentary behavior for workers without them even having to think about it.
The HÅG InBalance™ Mechanism is the end result of their design. The mechanism perfectly complements a range of their ergonomically sound chairs, with the newest addition to their range – Sofi Mesh – also boasting the mechanism. InBalance™ allows the chair to act as a platform, enabling the user's body to move naturally and, as the name suggests, keeps them perfectly balanced whilst performing their day to day tasks.
InBalance allows the range of chairs it is applied to, to be identified as "dynamic chairs", of which there are already many on the market. So, what sets InBalance™ apart from the rest?
HÅG handed the Sofi Mesh, fitted with the mechanism, over to the Karolinska Institutet (who award the Nobel Prize for physiology and medicine) to study how beneficial the mechanism is to the user and to compare these results to other dynamic chairs on the market.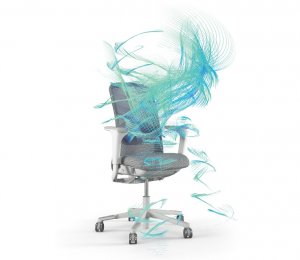 Using a range of high-tech tools, the institute measured the movements of a group of test subjects who were asked to perform a variety of tasks that were akin to general office work. They then asked the test subjects to carry out the same tasks when sitting in other conventional dynamic chairs and whilst standing. Results were compared thereafter.
As many as 73% of the subjects reached levels of movement similar to taking a slow walk, classified as "light human activity", when carrying out their tasks in the HÅG SoFi Mesh chair. These results far surpassed those of the test subject's recorded movements when sat in a conventional dynamic chair.
The InBalance™ mechanism also outperformed the results for standing up by the same margin. This was a surprising find as it suggests that standing is not enough in itself to combat issues that surround sedentary behavior and highlights that the body must actually be in motion in order to avoid associated health risks.
Erlend Weinholdt, physiotherapist and lead ergonomist at Scandinavian Business Seating, highlights the importance of the Institute's findings and comments; "Everyone is talking about chairs that promote activity, but we are the only ones who can prove it".
So, knowing these results and with an easy fix on the market, what's stopping you from investing in your health?
 
[yikes-mailchimp form="1″ title="1″ description="1″ submit="Sign Up"]