Having an ergonomic office set up is important to avoid injuries in the workplace and keeping staff happy, healthy and productive.
Poor office ergonomics can lead to an increase in staff absence, with upper or lower back pain being amongst the most common reasons for employees to take sick leave.
Luckily, there are many ergonomic products on the market today to help you to create a safe and comfortable office. In this post, you'll find a round up of our favorite ergonomic office furniture pieces.
If you're interested in learning a little more about the basic principles of office and workplace ergonomics, you can check out this post, which also includes a free ergonomic reference sheet download.
1. Adapt
Following the EasiSpec system, our specialist advisors take a few key measurements and create a tailored "prescription" for an Adapt chair that will provide you with highly specific and personalised ergonomic support and comfort. Ideal for those who require extra support, suffer from pain or postural issues or have a disability.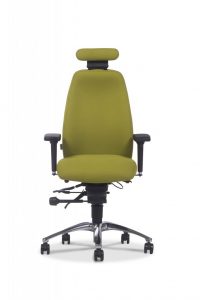 2. Ergohuman
Ideal for those who are seated for extended periods or require more thorough support, the Ergohuman task chair boasts a range of flex zones throughout the back and lumbar regions, providing continuous ergonomic support.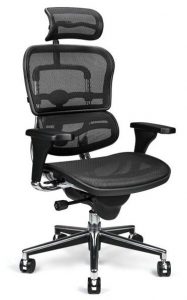 3.HÅG Sofi & HÅG Sofi Mesh
The body has an intuitive need to move and the HÅG SoFi keeps the body in motion and allows the user to sit in a variety of positions. The InBalance™Mechanism keeps the user perfectly comfortable whilst boosting productivity and improving health by keeping the user active.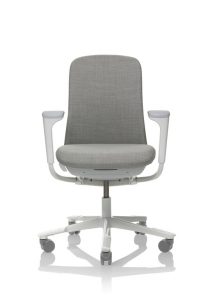 4. Poise
Designed to reduce pressure on the thighs and back, the Poise task chair features an integral seat slide which allows the user to adjust the seat depth. A synchronised mechanism with freefloat back action makes it easy to get comfortable and feel supported.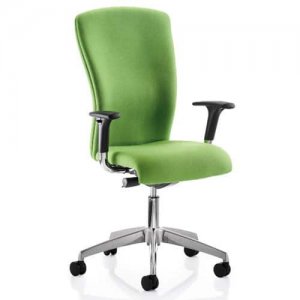 5. HÅG Capisco & HÅG Capisco Puls
Choose to sit in Capisco or Capisco Puls chairs forwards, sideways or backwards and receive equal comfort and ergonomic support. Inspired by the horse rider's saddle, the Capisco offers greater freedom of movement and caters for active sitting throughout the day.
6. Sidiz
Providing excellent ergonomic support and adjusting easily to the user's height and weight, the Sidiz task chair offers consistent support and comfort. The mesh design  also provides cooling ventilation to the back.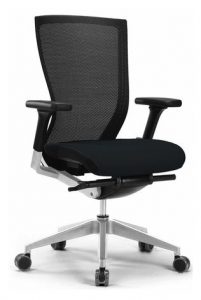 7. Enjoy
Designed for those who are required to sit for up to 8 hours per day, the Enjoy Task Chair provides continuous support and comfort through the use of flex-zones for lumbar and back support. Other features include a synchro-tilt mechanism, sliding seat, pneumatic height adjustment and single lever control for seat height, seat depth and back tilt.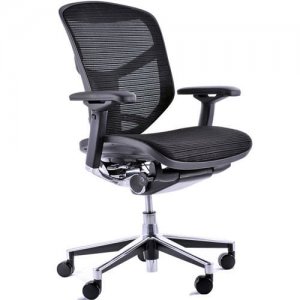 8. Rise
Rise height adjustable desks feature a range of control panels which all make changing from a sitting to a standing position quick and easy. Adjustable from 635mm-1290mm, Rise desks enable you to spend less time sitting and more time enjoying the benefits of active working.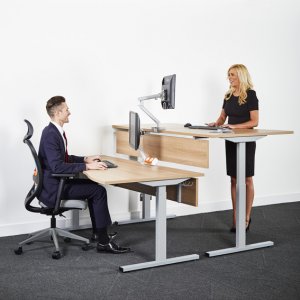 9. GC1
GC1 tables are multi-functional and practical addition to any work space. A simple to use control panel changes the height of the table quickly and simply. In addition to it's sit/stand functions, GC1 also benefits from a flip top and optional dry-wipe finish, creating a truly versatile piece of furniture that adapts to any way that you choose to work.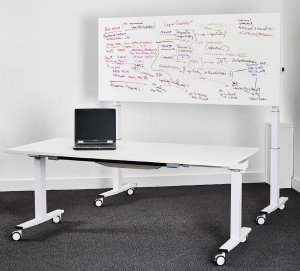 10. Sit/Stand Desktop Riser
Place the desktop riser on any desk to create a quick and portable sit/stand solution. Featuring a fast and easy height adjustment process, the riser also benefits from a support groove for smartphones or tablets and a large keyboard tray.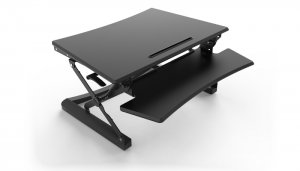 11. Ascend Monitor Arm
Ascend monitor arms feature a gas assisted stem and provide practicality, organisation and space to your desk. Easy to adjust height, tilt and position, creating a comfortable ergonomic working position.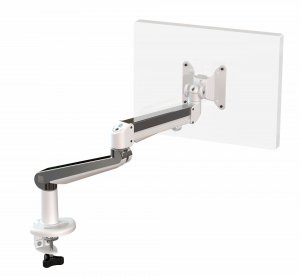 12. Streamcomb Monitor Arm
Able to hold up to four monitors, Streamcomb helps to create a clutter-free desk space. Streamcomb monitor arms also make it easy to achieve a comfortable, ergonomically correct working position and help to relieve tension and strain through the neck and shoulders.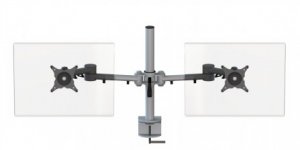 13. Ergonomic Accessories
Wave Office also provides a range of ergonomic accessories such as footrests and specially adapted mice and keyboards to make sure that your entire body can work in a comfortable and supported ergonomic position.
We hope that this list has given you a simple starting point in creating an ergonomic working environment. If you would like to view more information on the featured products, you can click on their individual links or call 01293 510553 to speak to one of our friendly team.
[yikes-mailchimp form="1″ title="1″ description="1″ submit="Sign Up"]